Lynnette's

Latest
The photo on the right was taken in December 2009 near Asheville, North Carolina, not far from the setting of Smoky Mountain Reunion,
Smoky Mountain Home and A Holiday to Remember.
Below are photos I took at my farm in eastern NC. Finally, snow for me, too!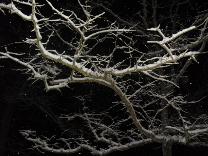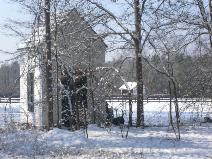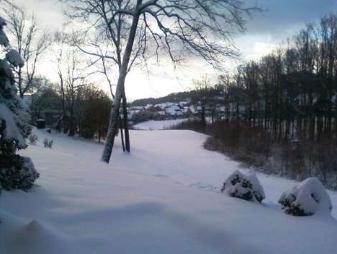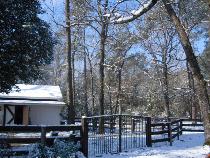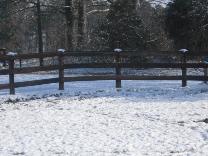 Valentine's Day 2010
The report for today is that 49 out of the 50 United States has snow on the ground, Hawaii being the only exception. What a winter it's been for Virginia, Maryland and Pennsylvania! The North Carolina and Virginia mountains have had more than their usual share of snow, too. Did I bring this on with my Christmas story about a blizzard in the Smoky Mountains? Could be. I definitely think the idea of a hero and heroine marooned in a private school with seven students doesn't sound at all improbable this year!
Here in eastern North Carolina, we got a little snow this weekend. Friday night was magical, with lovely flakes streaming swiftly to the ground. I went out at eleven to give the horses their hay and spent some time in fairyland--snow clung to every branch of the bare trees, each leaf of the evergreen hollies. My fence posts wore little white caps and each board was lined with white. I love the hushed, silvery world of a country snowfall.
The temperature rose to 43 degrees yesterday, so most of my lovely snow has melted away. I keep the pictures, the sound and the scent in my mind, however, and I took some photos to share. For more snow photos, check out my blog, Home is Where the Horse Is.
Here's hoping Spring lurks just around the corner...
Lynnette
January 2010
What an amazing date! Who knew a year could pass so quickly?
Bookwise, 2010 will be quiet for me--nothing new out until November, when I'll have another Christmas story on the shelves. That book will be the last of the Harlequin American Romance continuity, The Codys of Wyoming. The series starts in June with Rebecca Burton's Walker: The Rodeo Legend. Be sure to look for Walker's story and get started on a wonderful selection of books from some of Harlequin's best authors!
Most of my backlist can still be ordered through Amazon.com, so if you've enjoyed one of my stories, please go to the Book List Page and catch up on all the rest. Used book sales don't make money for an author, but I'm just happy to think that people are looking for my books and will then be waiting for the new ones when they arrive.
And I am working on new books--an engagement of convenience story that starts out in the Florida Keys, and more cowboy stories. Between the writing and the horses and daily chores, I could use several more hours in most days. But I haven't figured out how to make that happen yet.
In the meantime, I'll just have to work with the 24 hours I'm given each day. I hope the days of your new year will be busy, prosperous and peaceful, with plenty of love to share, lots of chances to laugh and, of course, many good books to read.
Wishing you a warm and safe winter,
Lynnette
~~~~~~~~~~~~~~~~~~~~~~~~~~~~~~~~~~~~~~~~~~~~~~~~~~~~~~~~~~~~~~~~~~~~~~~~~~~~~~~~~~~~~~~~~~~~~~~~~~~~~~~~~~~~~~~~~~~~~~~~~~~~~~~~~~~~~~~~~~~~~~~~~
December 2009
Wow, that two months flew by!
Between a deluge of fall leaves, horses to care for and books to write, these weeks have whistled past like the autumn wind. Out in the country, we don't get trick-or-treaters for Halloween, because the houses are far apart with lots of dark fields around them. In early November, my young draft horses, Lucy and Joy, went to boarding school to learn to be driving horses. You can meet them and get the whole story (including how the trainer's truck got its fender dented) at my blog, Home Is Where the Horse Is. Thanksgiving saw one daughter staying in Boston, thanks to the outrageous plane fares--the first time we haven't all been together for the holiday. It's harder for me to grow up than it is for the kids!
And now it's December, and almost time to replace the November books on the shelves. I hope you had a chance to find my November book, A Holiday to Remember. This time of year is so hectic, retreating into a good story can give you a real break. If you enjoy holiday stories, I seem to have written quite a few of them over the years, and these days they can be ordered through Amazon from bookstores across the country. Look for:
Shenandoah Christmas, Harlequin Superromance
A lonely widower and his two kids fall for the substitute choir director. It'll take a miracle to convince her to stay once the Christmas play is over! (This book features one of my all time favorite covers!)

Abby's Christmas, Harlequin Superromance

When the town bad boy returns, Abby Brannon seizes this chance to claim him for her own. But his past stands in the way of her hopes for a happy-ever after. (I loved writing this story--Abby and Noah are a special couple for me.)

Christmas at the Blue Moon Ranch, Harlequin American Romance
A wounded soldier must prove to his lovely next door neighbor that he can manage the ranch he wants to buy, or she's taking back the land. He's got a 3-month deadline--can he win the bet and her love before Christmas Eve?
(This was my first Harlequin American, and I love this cover, too.)

I hope the holidays will be joyful for you, offering opportunities to relax, to enjoy the season, and to help others in this neighborhood we call Earth. This year, instead of buying each other gifts we don't need, our extended family will be contributing to a charitable fund--probably The Heifer Project (http://www.heifer.org) I'm thrilled with the idea, and can't wait to see whether we choose a cow or a sheep or a water buffalo or chickens or...
Wishing a happy and peaceful New Year for all of us,
Lynnette
~~~~~~~~~~~~~~~~~~~~~~~~~~~~~~~~~~~~~~~~~~~~~~~~~~~~~~~~~~~~~~~~~~~~~~~~~~~~~~~~~~~~~~~~~~~~~~~~~~~~~~~~~~~~~~~~~~~~~~~~~~~~~~~~~~~~~~~~~~~~~~~~
October 2009
An updated web site is my most recent achievement--I wanted to have my new book on a page somewhere out there in cyberspace. My daughter mentioned Yola as a place to get free site templates, and I have to admit that I'm really pleased. I'm hoping to change the banner with the seasons, but since I have a Christmas story out starting in October, I've skipped the sunflowers and mums for autumn and put up a poinsettia to go with the cover.
To check out a preview of A Holiday to Remember, click on the New Book page in the menu. I think the cover is lovely and I really enjoyed working on the story. I hope your reading experience puts you in the mood for a wonderful holiday season! A Holiday to Remember will be on book shelves in November, or you can click here to purchase it in October from EHarlequin.com.
The big news for 2010 (so far, at least) is the first ever continuity from Harlequin American Romance. "The Codys--The First Family of Rodeo" will begin in June and run through November, with a new book each month by a different author. The titles have just been decided, which is really exciting:
June 2010 Rebecca Winters Walker: The Rodeo Legend
July 2010 Marin Thomas Dex: The Honorable Cowboy
August 2010 Cathy McDavid Dusty: The Wild Cowboy
Sept 2010 Pamela Browning Mark: The Secret Cowboy
Oct 2010 Trish Milburn Elly: The Cowgirl Bride
Nov 2010 Lynnette Kent Jesse: Merry Christmas, Cowboy!
I'm very pleased and proud to have been invited to participate in this special occasion for Harlequin American Romance. Rodeos are always a fun place to set a story (check out my first Superromance, One More Rodeo, for more rodeo action.) I might even have to make a trip to the National Finals Rodeo in Las Vegas to celebrate the series!
I just finished my first version of Jesse's book, and now I'll be diving into a book set in the Florida Keys and in Georgia. I plan to spend more time on my blog, too, which is called Home is Where the Horse Is--Life and Love With the Herd. Click on the menu button above to go to my blog, where I talk about the world of horses, riding, dogs...whatever is going on at the time.
Wishing you peace and contentment as we head into this busy time of year,
Lynnette